Simple Headband Sewing Tutorial For Beginners
I LOVE wearing headbands when I'm hanging out at home or doing yard work in the hot weather! A couple of years ago I bought my first and only knit headband with a purple pattern fabric; a little secret about me… I LOVE PURPLE! Anyhow, I still have the headband but have worn out the STRETCH. I'm excited to show you this Simple reversible Headband Sewing Tutorial!
This post has affiliate links, and with your qualifying purchase I earn a commission at NO extra cost to you.
I was at a craft fair last week and bought a stretch knit headband, I'll use this one to get measurements for making my a new stretch fabric headband.
As I go thru this sewing project made from scratch I'll be sharing the step by step directions with you. Let's get started!
Sewing Notions Needed to Make Headbands at Home
Knit Fabrics of your choice (For one headband you'll need two pieces of knit fabric that are 2 1/2″ and 19″) A 4″ piece of knit fabric cut off the bolt is the perfect size!
Thread Color to Match (use all-purpose polyester thread)
The width and length measurements for the headband may need to be changed to fit your head size. ALSO, I have worn my headbands several times and feel that I should have made the headbands about 1″ shorter in length and maybe not as wide. So I suggest you make ONE headband wear it a few times and then decide on any changes you may want to make. This is the awesome thing about making your own things- they are custom to fit you!
Pre-wash your knit fabric before starting this project. Knits do shrink and you don't want to wait to wash till after you've made your headband. Headaches from a too tight headband are NO FUN! Lightly press fabric if needed after drying.
Cutting fabric to correct size
Fabric strips for this DIY Headband are 2 1/2″ by 19″. Use the widthwise grain of fabric for measuring the 19″ and the lengthwise grain for measuring the 2 1/2″. Having a Rotary cutter and mat makes trimming VERY easy!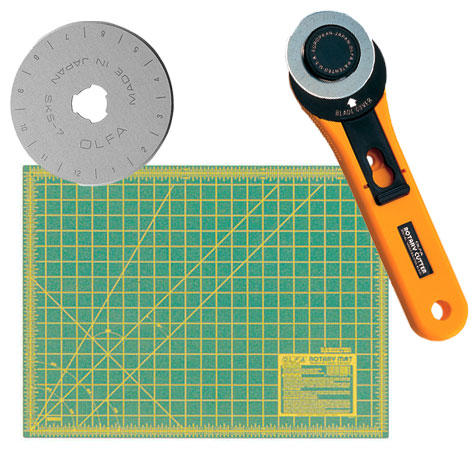 Olfa 45mm Rotary Cutter (RTY-2/G), 18×24 Inch Cutting Mat, 5pack BladesBUY NOW
Cutting Fabric to 2 1/2″ width
Fold fabric, matching selvedge edges and then trim one side of widthwise grain edges of fabric edge to straighten, if need be. Using clear ruler, measure 2 1/2″ from straight edge of fabric, on lengthwise grain, and cut the other long straight edge. **Because Knit Fabrics can be very wide, after you fold the fabric once matching selvedge edges, take the fold edge and match that up to the selvedge edges, so you'll actually have 4 layers to cut thru with the rotary cutter.
Cutting Fabric to 19″ Pieces
You are now ready to cut this 2 1/2″strip of fabric to 19″ strips. Unfold the 2 1/2″ strip of knit fabric and cut into 19″. Trim off selvedge edges before cutting 19″ pieces.
If you have knit fabric that is closer to 60″ wide, you should have enough fabric to make 3 headbands. Cut front and back headband pieces in this manner.
Prepare Sewing Machine for Sewing a Headband
Thread
Use an all-purpose polyester thread for sewing with knits.
If you have chosen two different color fabrics for your headband, you can use two different colors of thread.
Match the bobbin thread color for the fabric that will be touching the machine as you sew, and the spool thread will be for the fabric facing you while sewing.
Needle
Universal Needles will work for this project BUT if you have Ball Point needles for knits, go ahead and use one.
Sewing Machine Adjustments
Type of Stitch to use
You can use a regular zigzag stitch, or a three point zigzag stitch if your machine has that option. You can also use a stretch stitch if your machine has one. For both of the zigzag stitches, use the narrowest width setting. (Many newer machines have automatic tension adjustments based on the stitch you choose.
Just a quick reminder, Knit fabrics don't unravel or fray and the stitches used for this project are strictly for sewing together two pieces of fabric.
Tension Setting
Use a thread tension setting at about 3. It is good to save some of the scraps so you can test your stitching and settings BEFORE you start sewing on your headband. Using scraps will allow you to check settings and make adjustments before you start your project.
Prepare Fabric Pieces for Sewing
Place strips wrong sides of fabric together. Add a few pins to hold fabric together.
Machine baste both long edges together to minimize stretching while adding other stitching to long 19″ sides.
Sewing Headband Edges Together
Use a long narrow zigzag stitch, a three-point zigzag stitch or overcast stitch to sew together long edges of headband fabric pieces.
After sewing the zigzag or stretch stitch to the long edges, you'll want to remove the basting stitches! If the basting stitches are left in, your headband will have a hard time stretching.
I bought this magnifier to know what you'd be getting if I decided to refer you to this product. I LOVE IT! This magnifier is hands free by using either a strong heavy base that sits on a table OR a STRONG clamp for using the magnifier/lamp sideways as opposed to vertical use. This magnifier also has LED lighting via power cord. Oooh….The lamp has a STURDY adjustable neck too. Check out this LightView Pro Flex!
For the last part of sewing your headband….Match width edges together for stitching, There is no right or wrong way to match the sides together, you decide! Baste seam and then use same stitch as before to stitch together the width seam. (You'll be stitching thru 4 layers of fabric at this point)
Congratulations, You have just completed your own DIY Knit Headband!
If you have any questions about this Headband Sewing Tutorial, send me an email: amy@amyssewingstudio.com
Thanks for Reading and Happy Simple Sewing to you!
Amy