Sewing Tools List
This Sewing Tools List is made to help you, the beginner seamstress, know what basic sewing tools are needed to get started in learning how to sew basic sewing projects.
 The picture above shows the contents of  a Dritz Sewing Kit.  You can also buy your sewing tools separately.  
This post has affiliate links, and with your qualifying purchase I earn a commission at NO extra cost to you.
Description of Sewing Tools
MARKING TOOLS
Water soluble marking pens

Tailors chalk and tailors pencils

Tracing wheel with tracing paper
Use the Tracing Wheel/Tracing Paper when transferring dart lines to fabric just because it is real easy to just slip the paper between the fabric and pattern and then use the tracing wheel to transfer marks to the fabric.
Marking pencils work great on the smaller pattern symbols that are close to the edge of the pattern.
MEASURING TOOLS
Flexible Tape Measure

Measuring Guage

Plastic Clear Ruler
A flexible tape measure is great for measuring curved edges and long lengths. The measuring tapes I have are 60″ long.
The Measuring guage works great for measuring hems or when needing to mark/measure fabric edges to a certain length. This tool is sturdier than a tape measure and the plastic marker stays in one place for faster marking.
Plastic clear ruler works well with the tailors pencils to draw quick, long straight lines. Also works great with the Rotary Cutter and Mat shown below.
CUTTING TOOLS
Fabric Shears

Pinking Shears

Small embroidery scissors

Seam Ripper
Fabric Shears/Scissors SHOULD be used for cutting fabric/pattern tissue paper  ONLY. If your fabric scissors are used for anything else, your blades will become dull.
Pinking shears are for finishing seams to prevent fabric from future raveling.
Small Embroidery scissors are for clipping threads. The smaller blades help to minimize the chance that blade tips will accidentally cut thru some fabric where you are snipping. **Always remember to keep excess fabric out of the way while trimming threads.
Seam Ripper  is used for removing basting stitches,  accidental stitches from fabrics, and can also work for cutting the slit open for buttonholes.
LAST BUT NOT LEAST….OTHER NEEDED TOOLS
Pins- Approx. 1 3/8″ length works well for firmer cotton fabrics. I recommend getting pins with glass heads because the glass will NOT melt from the heat of the iron.   I use pins with large colored bead heads. This  makes  for easier locating of your pins whether in fabric (to pull out needles and NOT sew over them) or if they have fallen on the floor. (The pins that are pictured above are simple pins that came with the Dritz Sewing Kit)
Hand Needles– Some projects need basting stitches during construction, or finishing stitches. For general sewing, you will use the hand needle type called 'sharps'.
A quick lesson on hand needle sizes– needles have a numbering system from 1 to 12.
The coarsest needle, SIZE 1, is for

heavy weight fabrics

.
Use SIZE 6 for

medium weight fabrics

.
Lightweight or sheer fabrics will need a SIZE 12
The above list is a guide for needle sizes and will get you started in picking out the right size needle.
Keep several different needle sizes available just 'sew' you are prepared for whatever type of fabric you are using.
Sewing Machine Needles – 'Universal' Sewing Machine needles are great for the beginner because they will work for woven fabrics such as cotton and also knits.
Needle Threader– This is a helpful tool if you have a hard time getting the thread to easily slide thru the needle. Just stick the flexible part of the threader thru
Thimble- Thimbles are used to push needles or pins thru fabric, and help protect your skin. Sometimes I'm stubborn and don't use a thimble and will get little holes in my skin from where I pushed the needle thru the fabric! Save your fingers from 'pin pain' and use a thimble!
I've only ever used the metal thimbles but was surprised to learn there are MANY different sizes and different styles of thimbles!
Iron and Ironing Board- You'll need an iron for pressing your work as you sew; the iron's heat sets stitched thread in the fabric.
The Biggest Sewing Tool
Sewing Machine–(Not included in the Dritz Start-to-Sew-Kit) If you need to buy one, choose the best basic machine from a reliable manufacturer. Stores may have a trade-in policy that will allow you to upgrade in the future, just ask before you buy a machine. That may change your mind as to what kind of machine you'd like to get.
Just a few of the many reliable brand name Sewing Machines are: Brother, Singer, Baby Lock, and Elna. I have an Elna that is now 21 years old and is still reliable with regular tune-ups. Baby Lock Tempo is my newest machine, which is an upgrade from the basic models and very nice!
When looking to purchase a machine, I suggest that you actually test the machine, in a store, to make sure the machine feels comfortable to use. Then you can purchase the machine in the store OR go online to find a good price. Read about helpful sewing machine buying tips. Check out Sewing Machines here!
Extra Helpful Sewing Tools for Beginners
Many years ago, you only cut fabric with sewing scissors. Along came the Rotary Cutter-oh so nice!
Make sure to use a rotary mat with your rotary cutter to protect furniture surfaces. (There are different size Rotary cutters. A larger cutter is great for straight lines and large curved lines and a small cutter is great for cutting small curves)
You can use both scissors and the rotary cutter, there are no rules as to when to use what tool. Scissors work great for more control and precision.
A Rotary Cutter and Mat Set is a nice 'EXTRA' to have in your sewing tools, along with a clear plastic ruler for cutting straight edges with the rotary cutter.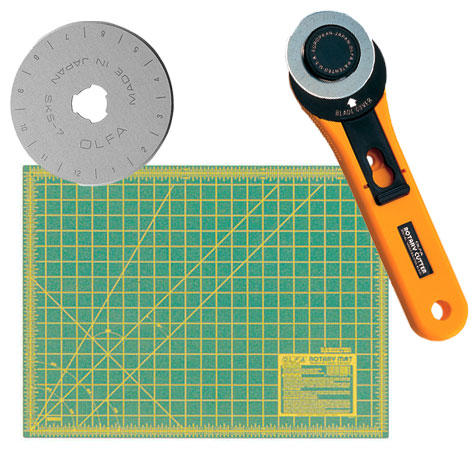 Olfa 45mm Rotary Cutter (RTY-2/G), 18×24 Inch Cutting Mat, 5pack BladesBUY NOW
Now that you have your basic sewing tools from the Sewing Tools List, read:
Learning How to Sew: Projects for Beginners to get you started on your Sewing Adventure!

Thanks for Reading and Happy Sewing! Please share this post with your favorite social media!
If you have any questions or comments about this post, email amy@amyssewingstudio.com
Amy