Make & Sew Your Own Scrap Fabric Garland
This Fabric Garland is a fun and unique way to decorate for any purpose or holiday! Fabrics come in many different themes for holidays such as Christmas, Valentine's Day and Easter. There are so many fabric themes, you can create your own reason for decorating with garland. Maybe you like decorating for the seasons like I do or just adding color to rooms. I had a bunch of patriotic fabric I received from my mom and decided to use the scrap pieces to Make Fabric Garland.
This post contains affiliate links for your convenience. Should you choose to purchase from a link, I may earn a small commission at no extra cost to you. Thank your for your support!
I should mention that this tutorial is just one of several different ways to make garland.
Materials needed for Scrap Fabric Garland
–Sewing Machine and Neutral Color Thread/Basic sewing tools
–Ribbon, Yarn OR Twine for hanging your garland (How much? Just depends on how long you want your garland) I used twine for my garland. Luckily, I had a ball of twine and I didn't cut my twine until all my garland pieces were on the twine.
–Scrap Fabrics– cotton fabrics if you have them. You could use any fabric though. If you need to buy more fabric just make sure each choice of fabric is a minimum of 7″ between opposite edges. (You get to do the math on this part)
–Rotary Cutter with a Pinking Blade, Mat and clear ruler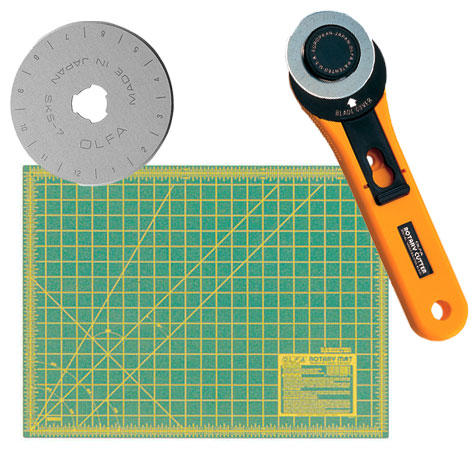 Olfa 45mm Rotary Cutter (RTY-2/G), 18×24 Inch Cutting Mat, 5pack BladesBUY NOW
45 mm Pinking Blades for your Rotary Cutter
Cutting Fabric Strips

(This is the way I cut my fabric strips.)
Use the strip measurements I give you as a guideline. The wonderful thing about projects like this is you can decide some of the details about your sewing project. The measurement for the strips used in this post are 3/4″ by 7″.
Set up your mat, make sure your rotary blade has a pinking blade, and you are ready to measure and cut. **If you don't have a pinking blade that's OK; just use a regular blade. The pinking blade gives the fabric strips some character and will minimize raveling if you decide to wash your garland.
You can see, from the photo below, I cut strips by measuring 7″ of fabric using my pinking rotary blade, and then I turned the fabric and cut into 3/4″ widths also with the pinking rotary blade.
Take each of these strips and fold them, wrong sides together. Strips should now be 3/4″ by 3.5″–See following photos.
Press Fabric Strips
Take a look at the following photo…
I took these photos as I was making my strips, but funny thing is after I made all these photos I thought of an easier way to cut and press these garland fabric strips.
Alternate Way for Cutting/Pressing Garland Pieces
Start in the same manner by cutting 7″ lengths. You should have a piece of fabric with opposite edges 'pinked'. Take this piece and fold fabric wrong sides together matching pinked edges.
Press this fabric, you should now have pinked edges matching and a folded edge opposite the pinked edges.
Now back to the mat for cutting strips. As you cut this 3/4″ width strip, each strip will have a TOP folded edge and BOTTOM pinked edges. Measure 3/4″ width for SIDES of each strip. Now you have individual strips that are already pressed and folded- A step saver indeed!
Sewing Fabric Strips
The purpose of sewing these strips 'next to each other' is to create a seam. This seam will be the area between the folded edge of the strip and the stitching line and where your ribbon/yarn will get added to join all the strips.
BEFORE Sewing, determine your seam width. Measure the width of your ribbon, add 1/8″ to 1/4″ to that measurement. This measurement will be the seam width. (You'll need the extra width to be able to easily pull your ribbon thru the fabric strips.) The measurement I used for my seam was 1/2″. So my stitching line is 1/2″ away from the folded edge of fabric.
Use a regular straight stitch making sure to backstitch on the first strip. You will just keep adding fabric strips as you continue to sew. The side edges of these strips should fit pretty close together. Is is not necessary to back stitch on every strip. I did a back stitch in every 5th strip and the last strip; this way if some stitching breaks, you'll only have 5 strips to stitch back together within your fabric strip garland. SEE video #1 below that shows how I sewed the strips to make the 'seam' for the ribbon/yarn.
You decide how long you want your garland pieces to be. You can sew them in manageable sections to work with OR be crazy like me and sew them all together and have one LONG piece- I think mine measured about 3 or 4 yards long!
Next time, I'd choose to have more manageable lengths making it easier when pulling the ribbon thru the fabric strip garland lengths.
Video #1- See how the fabric strips are sewn together
Helpful Fabric Strip Measurements
I took some measurements of the fabric strips, 3/4″ wide, that will help you to figure out how many fabric strips you'll need for your garland. 1st measurement– strips laying flat side to side- 44 strips in 36″. 2nd Measurement was when I had strips on my twine, I squished them all together as close as possible and counted 24 strips in 6″.
Pulling Ribbon Thru the Fabric Strip Seams
Insert your ribbon/yarn through the needle, and then insert your needle thru the seam you just made. See photo below…
At both ends of your garland string, you'll want to create a loop before tying the knots. These loops can be used for hanging each side of the garland. (Photos to be added)
Video #2 Alternate way of cutting fabric strips AND using the yarn needle.
CONGRATULATIONS!! You just finished the Beginner Sewing tutorial to Make Fabric Garland. I hope you enjoy your garland for many years to come. This DIY fabric garland would be a great gift!
Make sure to check out my other Sewing Project Tutorials!
Thanks for reading and Happy Simple Sewing to You!
For any questions about this post you can contact amy@amyssewingstudio.com