TIPS for Successful Pattern Piece Layout
After you have pre-washed your fabric and notions, made size adjustments on pattern pieces if needed, you are ready for pattern piece layout. (This article is referring to a store bought pattern.)
Tip #1. Use a cutting board or mat to lay your fabric on.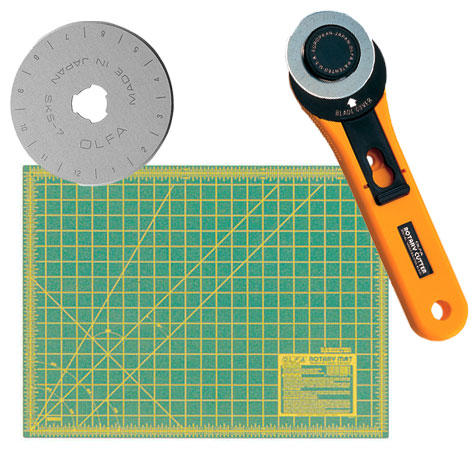 Olfa 45mm Rotary Cutter (RTY-2/G), 18×24 Inch Cutting Mat, 5pack BladesBUY NOW
The ruler guides help make sure your fabric grain/edges are lined up and as straight as they can be. If you don't have a mat, just lay your fabric out on a clean table and use the straight edge of the table as your guide.
Tip #2. Use flat and smooth pattern pieces
.
Use your iron on a very LOW heat setting, without steam, and quickly press your pattern pieces to get rid of all the fold lines.
Tip #3. Use the pattern layout images, shown in the instructions, for a visual guide.
The pattern instructions have illustrations to show you how to fold the fabric AND which direction to lay out the pattern pieces on the fabric efficiently to avoid wasting fabric.
There will be several layout options. Which option you'll use depends on the pattern view you are making, the width of your fabric (44-45″ OR 58-60″), the correct size and whether your fabric has nap. **If you are unsure whether your fabric has nap, follow the WITH NAP layout. Choose the layout that meets all these criteria.
Tip #4. The long arrow line

on the pattern pieces is to be placed on Lengthwise fabric grain.
One important thing to know is that most pattern pieces have a long directional line, arrows at each end, printed on the pattern piece. The long line needs to lay on the lengthwise grain of fabric, parallel to the selvage edge.
Use a tape measure or clear ruler, measure each end of the printed directional line to ensure both ends are equal distance away from the closest straight edge of fabric. Insert a pin at each end of the line to make sure pattern stays on grain line. Add pins around the rest of the pattern piece.
The direction you lay your pattern pieces on the fabric will directly affect how your clothing garments fit. Make sure you understand how to find fabric grain lines.
Keep the pins within the seam allowance to help ensure you don't cut into any pins. If you prefer, you can use magnets to hold pattern piece down on fabric. (I, Amy, prefer to just use pins! You can choose to use pins or magnets.)
Tip #5. Note the direction of the pattern shown as they are placed on the fabric.
-Right side ink facing up
-Wrong side ink facing fabric
Some pattern pieces will be placed on the 'FOLD' line.
Some pattern pieces will be placed on the diagonal grain line.
Tip #6 Keep fabric from hanging off the edge of your table.
If the fabric is hanging off the table, this can stretch the fabric which could affect how other pieces look or fit.
In a perfect world, we would have a REALLY long table for the multiple yards of fabric we have for our project. In reality, the table is most likely average length and not long enough to lay fabric out all at once.
If need be, you'll have to roll or fold the fabric to keep all the fabric up on the table. You will still follow the layout illustrations but just a few pattern pieces at a time; after these pieces are cut out, pull more fabric on the table and pin next patterns on the fabric.
Use these top tips to help keep pattern piece layout simple and easy.
As you are cutting your fabric, note where the notches are on your pattern piece. It is best to take time to cut notches outwardly instead of making small cut in the seam allowance. WHY? If you cut a slit in the seam allowance, you are limited at how much you can let out your seam allowance for sizing adjustments.
Check out other Simplicity Skirt patterns- available at the Simplicity Store on Amazon!
I also found another helpful link on this Pattern Layout topic!
Please share one of these photos to your favorite social media!
Thanks for stopping by and reading this post! If you have any questions regarding this post please contact Amy at amy@amyssewingstudio.com